Behi Barzegar, Food Technologist, Helping Hands Women's Group - Guyana
Jessica Dubelaar
Feb 24 2011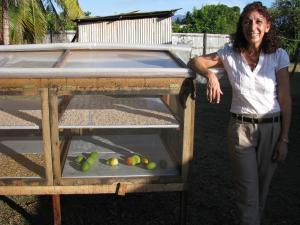 Behi Barzegar is a Food Technologist working with the Helping Hands Women's Group (HHWG) in Lethem, Guyana. She's using her experience in food manufacturing in the UK and her Master's in International Development to assist the HHWG improve their business practices. So far the first year of her placement has seen a number of successes; listen as she discusses the challenges faced and how the group is overcoming them.
To view my photos from Guyana, click here.
About Jessica Dubelaar
I'm a Public Engagement Officer with Cuso International based out of Toronto, ON. I joined Cuso International after five years working with NGO coalitions in Atlantic Canada and Ontario. Through my own work overseas in Ghana and Nigeria I've experienced first-hand how transformational international volunteerism can be.
Click here to see the full author's profile
Recent Episodes
Dariel Krammer, Regional Education Officer, Region 1 - Guyana
Sarah Verveld, Occupational Therapist - Guyana
Sydney Allicock, North Rupununi District Development Board - Guyana
Behi Barzegar, Food Technologist, Helping Hands Women's Group - Guyana
Heather Cobb and Priscilla Torres - Wowetta Women's Group, Guyana
Joseph Wangija - Special Education Needs Specialist, Guyana
Scotiabank Volunteer Chris Little in Guyana
Tinebeb Berhane, VSO Ethiopia Diaspora Program Manager
Greg Meehan, Nigeria 72-75 and Ethiopia 00-01
Linda Whittaker, India 09-10 - #8